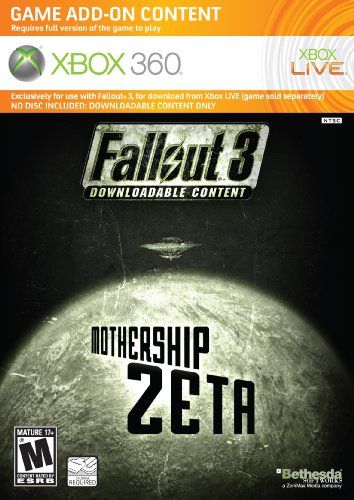 Hello, everyone! I'm sure you all enjoyed the Doctor Who 50
th
Anniversary special as much as I did! And that seems like the perfect way to segue into the review for this week:
Mothership Zeta
!
I guess Major Tom couldn't hear them...
Y'know…because it has aliens.
Oh, nevermind…
In vanilla
Fallout 3
, the player can journey far into the north of the Capital Wasteland and discover a crashed alien ship with the fabled Alien Blaster – a weapon that not only guarantees a Critical Hit upon impact but also is one of the few weapons in the game that does Electrical damage – that can be looted from it as well as a few of the precious Alien Power Cells that power the weapon.
But, beyond that and an alien corpse, nothing can be found.
And, of course, the player has to actually
find
it, being stuck with nary a marker to it beyond a radio signal that comes in when the player comes into range.
Enter
Mothership Zeta
, where you can head there…but, unfortunately, you won't be able to pick up your handy, dandy BFG (or, in this case, LFG) just yet because you'll be abducted by aliens!
Seriously, that's the whole set up.
You must lead a rag-tag group of abductees from across Earth's history – all the way from feudal Japan to the Great War of 2077 and beyond – in gaining an edge over your captors, wresting control of the ship from them, and then proceeding to wipe out the alien scum.
The player gets a massive series of areas to move around in, all with a rather unique look that is more akin to an alien atmosphere than the radiation-scarred wasteland below.
It's much easier on the eyes after all that green and brown, and is definitely a welcome change.
And, of course, along with the new setting comes some brand new alien weapons to play with.
Atomizers! Disintegrators! Electro Suppressors! Sonic, Electronic Ball Breakers! But, y'know…
not in a stupid way.
Really, it pays to put a few points into your Energy Weapons skill just to get the best effect out of these weapons.
If only for the joy of seeing aliens splattered, disintegrated, or in most other ways obliterated in effects that are rather pleasing to the eye.
So, as for the plot, you lead an insurrection against those that probed Uranus.
With the help of a Raider, a little girl who's
far
smarter than she lets on, some soldiers, a cowboy, and a samurai warrior, the player must disable sections of the alien ship in a brilliant act of subterfuge before storming the bridge and taking on another alien ship in ship to ship combat.
Of course, this creates a
massive
plot hole due to the fact that one of the last things you do is disable the ship's weapons systems before storming the bridge – something that would make one think that battling other ships would be next to impossible.
However, this is something that can be looked past.
I got your Earth shattering kaboom right here, Marvin!
What
can't
really be looked past is the lack of endgame content.
A beacon is placed at the crash site (the ship now conspicuously absent) that allows the player to travel to and from the Capital Wasteland to the Mothership.
This would be all well and good, save for the fact that a great deal of the ship's interior is closed off following your brilliant storming of the bridge and the reenactment of the battle from
Wrath of Khan
.
Why? What exactly is the point of that?
Even so, that's the only real blemish that keeps this DLC from being a flawless gem.
But it's
still
a gem and definitely worth playing through for a change of pace from the madness of the Capital Wasteland.
And, at last, we are brought to the final DLC of
Fallout 3
…and the one that I believe is of the highest merit out of all of them.
But, we will get into that next week.
So pack some extra Rad-X and RadAway, because we're heading right into the Pitt…
Mothership Zeta
is now available from Bethesda Game Studios and Bethesda Softworks for Xbox 360, Playstation 3, and PC.