Now mind you, when I said "brighter horizons and happier faces" last week, I didn't guarantee that said horizons and faces would be good. Not to say that LEGO Marvel Superheroes is bad, because it's not. Brought to us by Tt Games (who you may remember for several Crash Bandicoot and other LEGO games) and Warner Bros. Interactive (which, given that this is Marvel and not DC, I'm pretty sure is some kind of paradox), this is regrettably the closest that we're ever likely to get to a full crossover film with the Avengers, Spider-Man, the X-Men, and the Fantastic Four, so I suppose we had better do our best to enjoy it.
The game begins with the unseen (but very obvious voice) of Galactus, the Eater of Worlds commanding his herald - the Silver Surfer - to find him another world to eat. Simple enough until tall, dark, and alloy makes his way to Earth and gets waylaid by the not-really-that-surprising-when-you-think-about-it duo of Loki and Doctor Doom. In place of the Surfer's Power Cosmic from the comics, we have "Cosmic Bricks" filling in due to this game suddenly being in the LEGO-verse. And, of course, when they accidentally spread out on the Earth, the feces impact against the bottom of the roof and S.H.I.E.L.D. is called in.
The plot from there allows pretty much a game bag of Marvel Superheroes to be inserted into the plot
whenever it needs them.
Everyone from the duo of Captain America and Iron Man trying to get into Stark Tower to the Fantastic Four raiding Doctor Doom's castle in Latervia, and so on.
Interestingly for a Marvel game that heavily includes the X-Men - and indeed it does - Wolverine doesn't receive nearly as much attention as another prominent character, Spider-Man.
I don't have a problem with this, largely due to the fact that I like Spider-Man far more than I do Marvel's advertising puppet, except for the fact that the reasons that Spider-Man just happens to be around to show up in certain missions is stretching my disbelief just a little too far.
For a game about superheroes, where we have people who can set themselves on fire, fly around, and twist and contort themselves into unbelievable shapes.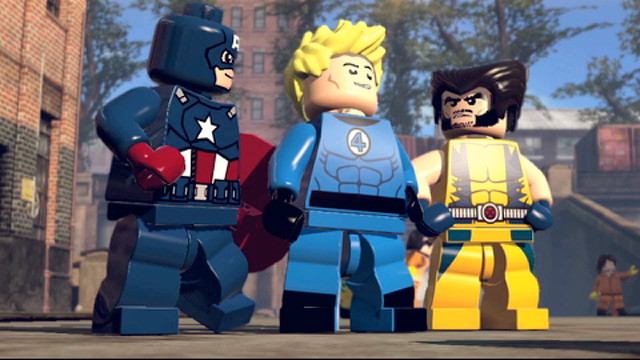 Wolverine is unfazed by the two Chris Evans
Speaking of which, many of the characters have special abilities to assist in progressing through the levels. For example, Mr. Fantastic possesses the ability to do the aforementioned elongation, but only when he's on platforms marked with the Fantastic Four "4" logo. Other characters have other abilities of a similar type; such as Hulk, Juggernaut, and Venom's alternate form can remove large sections of wall and debris with super strength, Captain America's shield can be used to unlock certain areas, Iron Man's flamethrower can burn through metallic objects and golden sections of wall to open up certain areas, and so on. With 180 characters, the possibilities are pretty much endless...mind you, it does get a little bit repetitive with so much selection and yet so many heroes (and villains) who do the same thing.
You're set up in a hub world of Manhattan Island where a large deal (read: everything that matters) of what happens in the mainstream Marvel universe takes place. Diving down from onboard the S.H.I.E.L.D. Helicarrier, you can pretty much traverse the length and breadth of Manhattan Island with no issues, finding studs in order to purchase characters you've unlocked (several of which you can find around the city) as well as vehicles and so on.
That all said, I'm not going to beat around the bush any longer - this is a completionist game. The game
outright encourages you to go for 100%, something which you barely scratch just by doing the missions.
It's all about rooting around through every nook and crannie for anything and everything you can find and then some.
Not that it's bad, and you can really get a full enjoyment out of the game just by playing the storyline, but that's not really what we're here for.
At least, that's not what the developers intend for us to be here for anyway.
Never let it be said Marvel isn't proud of its stupid, stupid choices...
And I could rag for a bit on several things I find a bit irritating, such as the flight controls for Iron Man being not at all in whack and Loki not being voiced by Tim Curry (it's apparently Troy Baker, who many people will know as the Joker in the most recent Arkham game, but props to him for the voice, it sound very like Curry), but overall I can't really. It's not too much to harp on for what is pretty much a decent game - if only for a LEGO one. That being said, I also really can't recommend it unless you're a completionist and it's just your cup of tea. Marvel fans will get a kick out of it for a bit - and to the game's credit the Marvel stamp on it is not remotely just an aesthetic shell - but the novelty will likely wear off sooner or later, leaving only those that crave a "100%" every time they load up their game.
So if you're a Marvel fan...sure, give it a rental. If you're a completionist, go nuts. If you're neither...well, next week might be something for you…
LEGO Marvel Superheroes is now available from LEGO, MARVEL, Tt Games, and Warner Bros. Interactive for Xbox 360, Microsoft Windows, PS3, PS4, Playstation Vita, Nintendo3DS, WiiU, and Xbox One.

This review is based on the Xbox 360 version.
For the latest from MadCapMunchkin, follow him on Twitter @MadCapMunchkin